There is no denying the second half of the year has started on an interesting note. It has been a month of back to back wins for Nigerian women and it feels like we are just getting started.
Feminism is a movement that has gotten controversial in recent times – due to the actions of radicals and also the ignorance of those who believe in a patriarchal system. According to Britannica, feminism is the belief in social, economic, and political equality of the sexes. Although largely originating in the West, feminism is manifested worldwide and is represented by various institutions committed to activity on behalf of women's rights and interests.
As much as many people abuse this movement, it is a fantastic one which has put many black women on the world stage. Elsa Majimbo, a 19 year old (2001) Kenyan is one of the numerous African women  who have broken barriers and gone from anonymous to a global superstar.
It is no longer news that African women are more than capable of performing great things on a global stage. Yemi Alade, Asa, Angelique Kidjo, Asisat Oshoala and a host of many others have proven this fact several times and we just can't get enough of it. You love to see it.
While many people whine about how it is a "men's world", there are beautiful African women changing that narratives and making the entire continent a force to reckon with among all other continents of the world. In this post, we will look at the five Nigerian women who have broken barriers and made history this July (in no particular order).
---
Before we proceed, kindly sign up and become part of the Urban 5 community. Be the first to know when new stories drop and stand a chance to win some of our sweet merch which we have in store for you.
---
Temilade Openiyi A.K.A Tems
On 27th June, 2022, Tems won the award for best international Act at the BET awards. She has been regareded as one of the best vocal powerhouses in the Nigerian music industry; with her song "Damages" and her collaboration with Wizkid on "Essence" placing her as an international act among other rising stars.
Tems, who tbh has one of the best face cards we have ever seen, is not just stopping with her participation in the success of the Made In Lagos album, she is taking the world by storm. having featured in Drake's "Fountains", she has also gone ahead to breaking barriers this July.
The teaser of Marvel's Black Panther: Wakanda Forever movie was released with Tems' soft vocals singing the cover for Bob Marley's "No woman no cry". Tems has continued to make the entire continent proud and we believe this is just the beginning. *Grammy for Tems –  fingers crossed.
Tiwatope Savage A.K.A Tiwa Savage
Tiwa Savage is one of Nigeria's biggest and most influential artists ever. She came into the limelight in 2012 after her album "Once Upon A Time" became a success. Since then, Tiwa Savage has gone on to support and inspire black women all across the world.
Like every other A-list artist in the world, Tiwa Savage has had her own share of backlashes and controversies but these things have never put her down. When Tiwa Savage goes to the beach, the waves bow because she makes them.
In July, 2022, the University of Kent awarded Tiwa Savage an honourable degree for her international success in music. The singer-songwriter is now renowned as a Doctor of Music in her alma mata. Her family relocated to London when she was 11 years old. A few years later, Tiwa Savage graduated with a degree in Accounting from the University of Kent.
Tiwa was a backup singer for George Michaels and also lent her vocals to other musicians like Mary J. Blige, Chaka Khan, Blu Cantrell, Emma Bunton, Kelly Clarkson, Andrea Bocelli and Ms. Dynamite.
In her speech, Tiwa Savage said not giving up got her where she is today.  She is an inspiration to not only black women, but all citizens of earth.
Tobi Amusan
Tobi Amusan has written her name in history and her story will be taught in Nigerian secondary schools. Schools will set exams about her achievements. She is an inspiration to everyone who has dreams.
On Sunday, 24th of July, 2022, Tobi Amusan tore the internet apart after smashing a world record in the women's 100-meter hurdles in the semifinals and finals at the World Athletics Championships on Sunday. Amusan came in with a record time of 12.12 seconds, beating Kendra Harrison's 2016 record of 12.20 by 0.8 a second.
The 25 year old Nigerian athlete from Ijebu-Ode, Ogun State has placed Nigeria on the world map. In her story, she stated how her mother used to sneak her to train and improve almost everyday. Now, she is known as Nigeria's Golden girl and the entire continent can never be more proud.
Ese Brume
Just a few days after Tobi Amusan's success, another Nigerian athlete, Ese Brume has become the first Nigerian in history to win two medals at two World Athletic Championships. She leaped 7.02m to win silver on the last day of the tournament at Oregon, USA.
In 2019, she won the bronze medal but she has never stopped training to get better. She is currently regarded as one of Africa's best athletes. She is expected to be at the commonwealth games and will make an attempt to reclaim the gold she last won in 2014.
Asisat Oshoala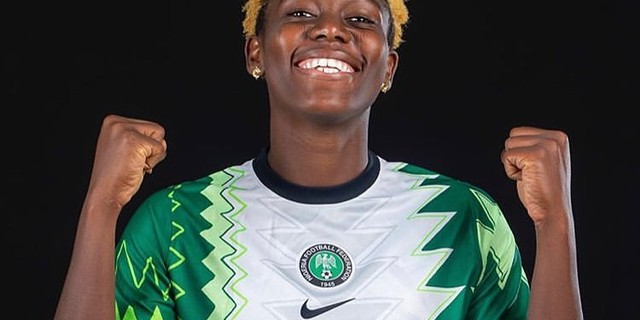 Barcelona and Nigeria's very own Asisat Oshoala emerged as CAF's best female football player of the year for the fifth time. Oshoala's ground-breaking achievements started in the 2014 FIFA U-20 Women's World Cup, where she finished as the tournament's top scorer with seven goals.
Oshoala currently plays for Barcelona Femini who are currently the best club in the world  right now and she is a prominent figure both off and on the pitch. She is currently the first and only player to have won the CAF Women's player of the year award five times. She's a real vibe on twitter too.